Everest base camp helicopter tour with Nepal Trekking in Himalayas Pvt. Ltd.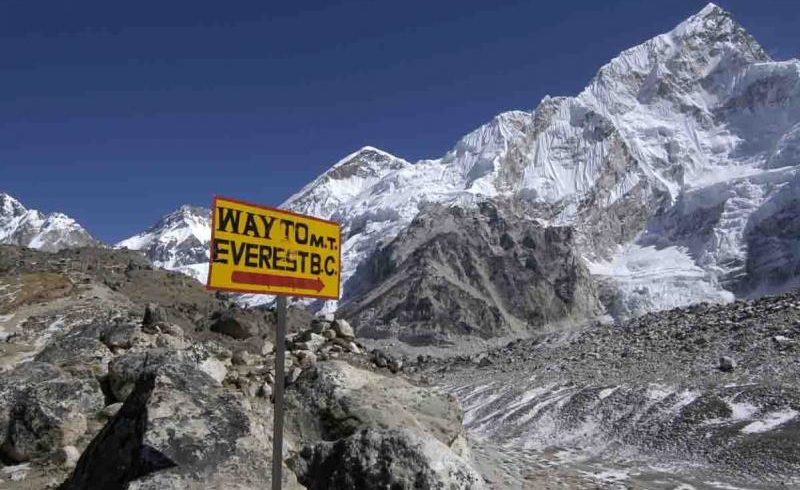 Nepal is a a fabulous location if you are searching for ancient history mixed with trekking and adventure exploration. The summit of Mount Everest, the highest mountain on earth, reaches 8,848 meters (29,028 feet) high. Trekking in the Mount Everest area became popular following the now legendary first ascent of the peak in 1953 by Edmund Hillary from New Zealand and the Sherpa Tensing Norgay. Since that time, many more have summited the mountain, but far more trek the route to Everest Base Camp simply for a glimpse of the peak far above. In recent years the mountain has seen its fair share of tragedy and drama. The 2015 earthquake and previous avalanches, along with disputes between climbers on the mountain, have left their mark on Everest trekking and climbing. The Everest Region is generally not regarded as the most scenic region in the country for trekking, but the allure of Everest draws climbers in large numbers. There are various routes to access base camp and several options for organizing a trip. Many trekking companies offer a guided hike, either with Nepalese companies or western-based companies. It's also possible to hire a private guide or porter and do it yourself, however all trekkers are technically required to have a guide. The main hiking seasons are in the spring and fall, from March to May and September to December.
Family Trekking in Nepal need some special planning, as some routes are far from roads and medical facilities which would be little bit difficult while having kids with you. But while some committed trekkers have grieved the spread of roads into the mountains, this means many places are better connected, physically and in terms of emergency communication — than they once were. If you're short on time, have very young children, or are unsure how older children will enjoy a multi-day trek, it's best to opt for day hikes. Centering yourself in Pokhara or Kathmandu will allow you to travel places close to the city that have great sightsee option and fresh air, but still allow you to return to the coziness of a hotel at night. Family trekking in Nepal is popular trekking adventure in Nepal Himalayas. Family trekking tour create all the family more delight as well as sharing the different culture, tradition, manner with family members. Perhaps, Nepal is the only one best option for the family trekking tour in Himalaya. Family trekking tour in Nepal offers superb Himalayan views, lush valleys, beautiful landscape, wildlife adventure, cultural heritage & make every family much happiness. Nepal has various trekking options for family among them Annapurna trekking, Langtang family trekking, Everest trekking are popular family trekking packages.
This 14 Days Annapurna Base Camp Trek gives you sufficient time to observe the staggeringly lovely peaks of all of the Annapurna giants that encircle the basin Mountains in Annapurna region from the imperative center. Annapurna I, Hiunchuli, Annapurna II, Gangapurna, Annapurna III, Machhapuchhre, Annapurna IV etc are few of the famous mountains in Annapurna region. The Annapurna base camp trek – 14 Days furthermore ensures you to have amusing, pleasure and an extraordinary insight about the herbal and cultural heritage of the small Himalayan country Nepal. It's far one of the most delightful treks passing through the diverse ethnic group's lifestyle and the kind of plants wooded area and wildlife. For the Annapurna Base Camp trek – 14 Days we have to follow the trial of terraced lands, dense wooded forests of rhododendron, Gurung communities' conventional and cultural villages. The 14 Days Annapurna Base Camp trek starts from Nayapul which is nearly 1 hour 30 minutes drive from Pokhara which is identified as the stunning metropolis city of complete Nepal for the Gateway of Annapurna base camp trek. You may also enjoy soaked by nature and unidentifiable calm within the coronary heart and soul. The primary part, Ghandruk Valley is the apex of the ridge, greater than 500m above. Normally, our path might be the moorlands of Annapurna region. Because of the excessive altitude, some of us may also fell altitude sickness .However, our expert guides will be there who will help you out to overcome all those difficulties that occur while trekking. More details on Annapurna Base Camp Trek.