Top travel locations to visit in Turkey and Cappadocia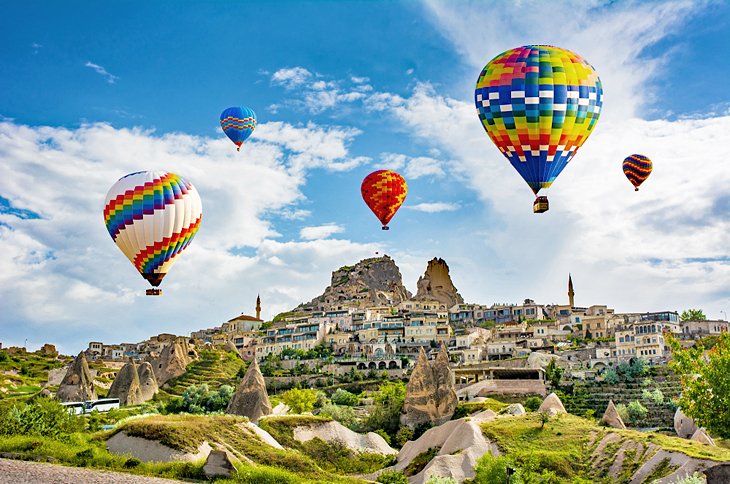 Fabulous Turkey … the location at the middle between East and West cultures. For many visitors, going for an early morning hot air balloon ride in Cappadocia is one of Turkey's highlights. In high season, over 100 hot air balloons take to the skies just after sunrise and give you bird's-eye views of the valleys and their rock formations. Hot air balloon rides take around one hour (with deluxe packages lasting around 90 minutes) and are available year-round, weather permitting. All tours include pickup and drop-off from your hotel.
Uludeniz is a small village located on the south west coast on the Aegean Sea. It has a secluded sandy bay at the mouth of Deniz, on a blue lagoon. This beach is famous for its shades of turquoise and remains one of the most photographed beaches on the Mediterranean. Deniz is also regarded as one of the best places in the world to paraglide due to its unique panoramic views.
Turkey has an abundance of Greco-Roman ruins, but none can be so romantically placed as ancient Pergamum in modern-day Bergama. Once home to one of the ancient world's most important libraries, Pergamum's remaining temple remnants now preside dramatically on a hilltop. It's an incredibly atmospheric place to explore, with an Acropolis area and a theater cut into the hillside with sweeping panoramic views from its top seating tiers. This is a great place to visit if you want to get a real feel for life in the Roman era.
The fifteenth century former residence of the Ottoman Sultans, the Topkapi Palace in Istanbul is a huge, ornate palatial compound which was a focal point of Istanbul's social and political life for hundreds of years. A UNESCO World Heritage site, visitors flock through its gates to see its Ottoman architecture, courtyards and famous Muslim and Christian relics. A must see sight, it consistently ranks among the top attractions in Turkey. The Harem is also quite popular, but costs extra. Audio tours are available.
Immerse yourself in fantasy and uncover Cappadocia treasures, be captivated on a Cappadocia Hot Air Balloon ride, see the honeycombed hills, distinctive chimneys and tall cone-shaped rocks that are clustered in the Monks Valley. Cappadocia tours are one of the many highlights when visiting this region of Turkey. A great way to see all of the beautiful valleys that lie between the stunning Goreme and charming Cavusin is on any Cappadocia Turkey tours. Read more on Cappadocia hot air balloon ride.
Travelers who love to shop shouldn't miss out on a visit to the Grand Bazaar, with 5,000 shops making it one of the largest indoor marketplaces in the world. Receiving more than a quarter-million visitors a day, the bazaar features such items as jewelry, carpets that may or may not fly, spices, antiques and hand-painted ceramics. The bazaar dates back to 1461 and today is home to two mosques, four fountains, two hammams or steam baths, and the Cevahir Bedesten, where the rarest and most valuable items have been found traditionally. Here is where shoppers will find old coins, jewelry with precious gems, inlaid weapons and antique furniture.