5 top attractions in Mauritius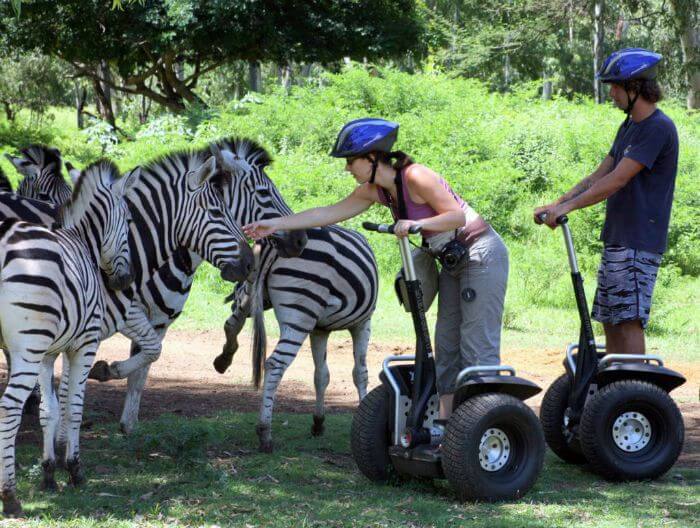 A fabulous destination if you are searching for adventure and ancient history feeling, add beaches, lagoons and reefs, this is Mauritius. For those who love snorkeling and swimming, Trou Aux Biches should be the first place to visit in Mauritius. With gentle sands shelving calm, shallow and clear water, this is an ideal place for a beach picnic with family and friends. If you love street food, hog at the numerous stalls and cafes along the coast. A variety of cuisines can be tried here. For early risers, Belle Mare Plage beach in Mauritius is a good choice to enjoy the sunrise. Take a dip while the sun comes up; you would be glad to add Belle Mare Plage beach to your list of must-visit tourist attractions among the- Mauritius sightseeing. Experienced swimmers can enjoy swimming in the currents, which are a bit stronger than other beaches in Mauritius.
If you have been to Mauritius and have not been to this place, have you ever been to Mauritius? If you wish to witness something out of this world, visiting the Chamarel Coloured Earth is an absolute must for you. This stupefying attraction has gained popularity over time because of the fact that it comprises of sand of seven different colors which is most definitely going to leave you perplexed and shocked at the same time. The colors are not very prominent because of the tropical climate of Mauritius but if you mix the colored earth, you will be able to see a remarkable difference. The predominant colors you notice include that of the red, black, purple and cyan.
Trou Aux Cerfs, or the Murr's Volcano, is a 605 m high dormant volcano that is located in Curepipe, Mauritius. Its well-defined crater is about 350 meters in diameter and is 80 meters deep. Experts believe that this dormant volcano could become active anytime within the next thousand years.
If you love waterfalls, you are going to love this one. Rochester Falls near Port Louis are worth a visit owing to their picturesque beauty and surrounding flora. Soak in the lush greenery and spend some moments of introspection by the falls. The main attraction is the flank rocks that stand out in the whole scenery. You can also take a dive in the cool-cool waters and enjoy eating fresh tropical fruits.
Where to stay in Mauritius?
Set amongst 213 hectares of tropical gardens and surrounded by an Ernie Els designed 18-hole golf course, Anahita Golf & Spa Resort, one of the best five star Mauritius hotels, is nestled on the east coast of Mauritius. Experience the authentic Mauritian charm with its unique accommodation, diverse culinary experience and dedicated service. Enjoy a vast range of the most sought-after activities: two exceptional 18-hole championship golf courses designed by Ernie Els and Bernhard Langer, exclusive beach experience on its two beaches, boutiques, Personal fitness centre, Anahita Spa by Themae Paris, tennis courts, Kid's & teens club, water sports centre, leisure parks at Domaine de l'Etoile and Ile aux cerfs. See extra info : https://www.anahita.mu/.
For our french visitors :
Un fascinant destination si vous recherchez aventure et histoire ancienne exploration, ajoutez des plages , lagons et recifs, c'est l'ile Maurice. Visites guidees A Maurice, decouvrez la beaute de l'ile et admirez les lagons transparents, les cotes vierges, les champs de canne a sucre ondulants et d'autres superbes perspectives. La duree des visites varie de 15 minutes a 1 heure, en fonction de la duree du vol, de l'emplacement de l'helipad et des conditions climatiques. Des visites sur mesure peuvent egalement etre organisees. Prolongez votre experience de vol avec notre service de transfert premium. Economisez des heures de conduite et transferez directement a votre hotel en quelques minutes, tout en decouvrant la beaute de l'ile Maurice depuis les airs. Des transferts peuvent etre organises entre l'aeroport international SSR / les hotels et inversement. Cliquez ici pour reserver votre transfert. Pour ceux qui aiment la plongee en apnee et la natation, Trou Aux Biches devrait etre le premier endroit a visiter a l'ile Maurice. Avec son sable doux et ses eaux calmes, peu profondes et claires, c'est un lieu ideal pour un pique-nique a la plage avec la famille et les amis. Si vous aimez la cuisine de rue, faites du porc dans les nombreux stands et cafes le long de la cote. Une variete de cuisines peut etre essayee ici. Pour les leve-tot, la plage Belle Mare Plage a Maurice est un bon choix pour profiter du lever du soleil. Faites un plongeon pendant que le soleil se leve; vous seriez heureux d'ajouter la plage de Belle Mare Plage a votre liste d'attractions touristiques a ne pas manquer parmi les sites touristiques de Maurice. Les nageurs experimentes peuvent nager dans les courants, qui sont un peu plus forts que d'autres plages de l'ile Maurice.
Situee dans la region exotique de l'ile Gabriel, a 20 km de la cote nord de l'ile Maurice, la plage de l'Ilot Gabriel est l'une de ces plages inexplorees que peu de gens connaissent. Si vous voyagez de Grand Baie, vous pouvez simplement louer un bateau pour visiter cette ile. La meilleure partie de visiter cette plage est la beaute pittoresque du lever et du coucher du soleil. Non seulement cela constitue un cadre completement romantique, mais cela vous apporte egalement un calme et une serenite que vous ne pourrez certainement pas obtenir autrement.
Trou Aux Cerfs, ou volcan du Murr, est un volcan dormant de 605 m de hauteur situe a Curepipe, Maurice. Son cratere bien defini mesure environ 350 metres de diametre et 80 metres de profondeur. Les experts estiment que ce volcan en sommeil pourrait devenir actif a tout moment dans les mille prochaines annees.
Le parc de crocodiles de La Vanille porte totalement son nom. Il abrite certaines des creatures les plus mal comprises du monde, les crocodiles. Il a egalement une large gamme de tortues geantes. Les crocodiles sont le fer de lance de ce parc, mais vous pouvez egalement explorer un certain nombre d'autres types de reptiles et de plantes dans les environs. Si vous aimez les papillons, vous pourrez egalement admirer un large eventail de papillons rares dans le parc.
Ou sejourner a Maurice?
Situe au milieu de 213 hectares de jardins tropicaux et entoure d'un parcours de golf de 18 trous concu par Ernie Els, Anahita Golf & Spa Resort, l'un des meilleurs hotels cinq etoiles de Maurice, est niche sur la cote est de l'ile Maurice. Decouvrez le charme mauricien authentique avec son hebergement unique, son experience culinaire diversifiee et son service devoue. Profitez d'une vaste gamme d'activites parmi les plus recherchees: deux parcours de golf d'exception de 18 trous concus par Ernie Els et Bernhard Langer, une experience de plage exclusive sur ses deux plages, des boutiques, un centre de remise en forme personnel, le spa Anahita de Themae Paris, des courts de tennis , Club pour enfants et adolescents, centre de sports nautiques, parcs de loisirs au Domaine de l'Etoile et a l'Ile aux Cerfs. Lire extra details: hotel luxe ile Maurice.