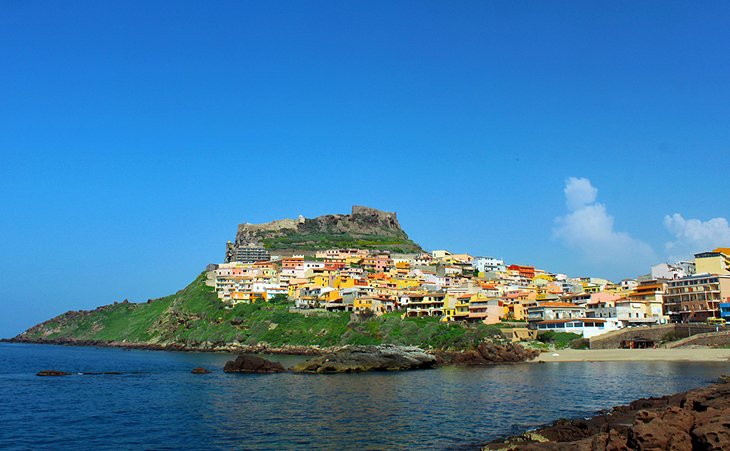 Sardinia … an incredible place to see. As attractive as the busy little fishing harbor town is with its pastel houses climbing up the hill, it pales compared to the medieval village inside the walls above. At the very top is a 12th-century castle with a good museum that explores the local craft specialty of basket making. The narrow streets around the castle wind steeply down the hill, breaking into steps at the steepest points, and in doorways, you may see women weaving baskets with intricate designs. Views from the top extend in both directions along the coast and as far as Corsica. The Duomo, in the little plaza below, has one of Sardinia's finest altarpieces, dating from the 15th century, along with fine woodcarvings in the choir and a crypt. Its bell tower began life as a lighthouse.
One of the most favorite towns in the South of Sardinia popular for its renowned resorts and long white sand beaches with crystal clear waters, coves and a landscape covered in the Mediterranean scrub. Villasimius doubles its population in the summer time. Among the most beautiful beaches you will have Porto sa Ruxi, Campus and Campulongu, La Spiaggia del Riso (so called just because of the "beans" that make it up), Cala Caterina, the enchanting Porto Giunco, the wonderful Punta Molentis and the pink flamingos flying above the blue and clear sea of this miraculous seaside pearl of South Sardinia. More details about Luxury Holidays in Sardinia
City Walls of Alghero, The best way to get a sense of the maze-like seaside town of Alghero is to take a walk along its walls. Spanning from Torre di Sulis in the south and the Porta a Mare in the north, it takes about an hour allowing for plenty of stops for pictures and gelato. Cittadella dei Musei Cagliari, Located in the Castello section of the city of Cagliari, this collection of museums is the perfect way to spend a day that is either too blazing hot or rainy to be at the beach. In the Pinacoteca Nazionale di Cagliari you can see paintings, textiles, jewelry and ceramics and, if you are not shy, the Collezione di Cere Anatomiche Clemente Susini has an impressive collection of anatomically correct wax figures.
One of the absolute must-do's when visiting Sardinia (or in fact during any of your travels), is to enjoy the local food and taste. Sardinian food is characterized by very strong flavors, of which Cannonau, the local wine, is the perfect example. Carasau (a type of thin crispy bread), Porcheddu (a frequently basted young pig) and Culurgiones (a ravioli-like pasta filled with pecorino cheese, mint, and other ingredients) are other products of the Sardinian gastronomic tradition. Local restaurant Su Combidu, located in the center of Cagliari, is a great place to explore the different tastes of Sardinia, but there are many more great traditional restaurants across the island, too.