Bhutan travel attractions and fly with Druk Air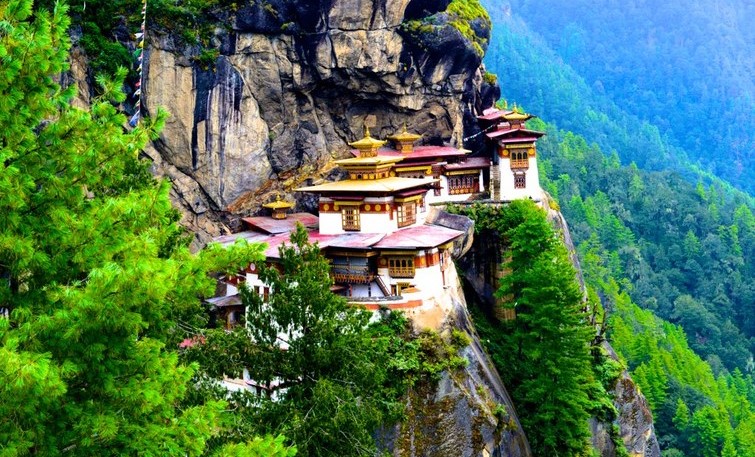 Bhutan is a fabulous travel destination, a magical ancient kingdom with beautiful scenery and a fantastic history. Drukgyal Dzong: This dzong is now merely a picturesque ruin sitting on the hillside in the upper part of the Paro District. It is thought that this monastic fortress was probably built in 1649 to commemorate and celebrate victory over an invading force from Tibet. Sadly, the structure was decimated by a fire in the 1950s.
Another breathtaking destination in Bhutan is Punakha and this place is widely visited by adventure seekers. 'The best place to be' for those who enjoy the adrenaline rush of river rafting in the two rivers/chhus – Mo and Pho. However, Punakha is widely famous for the 17th-century fortress Punakha Dzong which sits majestically besides the Pho and Mo Chhu. This Himalayan town hosts masked dances and traditional music during Punakha Tshechu- a religious festival of Bhutan. The feeling the place offers is surreal, and thus many people visit here mostly to understand the Bhutanese culture and history as well as to relish its divine natural beauty. Surrounding the town in the Punakha Valley, it has some must visit attractions like Chimi Lhakhang and Namgyal Chorten. From these points, one can get a grand view of rivers and mountains. Punakha Dzong and Limbhukha are also best places to see while in Punakha.
Druk national carrier of the Royal Government of Bhutan and we will lift you over the mountains in either an Airbus A319 or an ATR 42-500. Our flights come out of nine cities, and we are expanding our hubs to accommodate the growing number of tourists who want to experience this country. We will treat you like royalty, and your flight will be an as much pleasure for you as serving you is a pleasure for us. Come and be our guest as Drukair brings you to a land that time seems to have forgotten but you will never forget. See additional details at Drukair.
Haa Valley, which is situated only 13 miles away from the India-China border, connects major Bhutanese villages like Chhukha, Paro, and Samtse. It is counted among the top tourist places in Bhutan that you must visit. It stretches over an area of 1700 square kilometres. The valley was opened to the public in 2002. However, do not expect to find any luxury hotels in Haa Valley. You can expect to find basic homestays in the valley. The locals of Haa Valley are hospitably warm. There are numerous folk tales attached to one of the most famous Buddhist temples in Bhutan. Some say that this temple in Bhutan was built on the land where a massive serpent was killed. Another legend is that it was constructed on the head of a demoness. These folk tales add to the rich heritage of the temple. It is one of the best places to visit in Bhutan on your spiritual retreat.