Trekking Himalaya base camp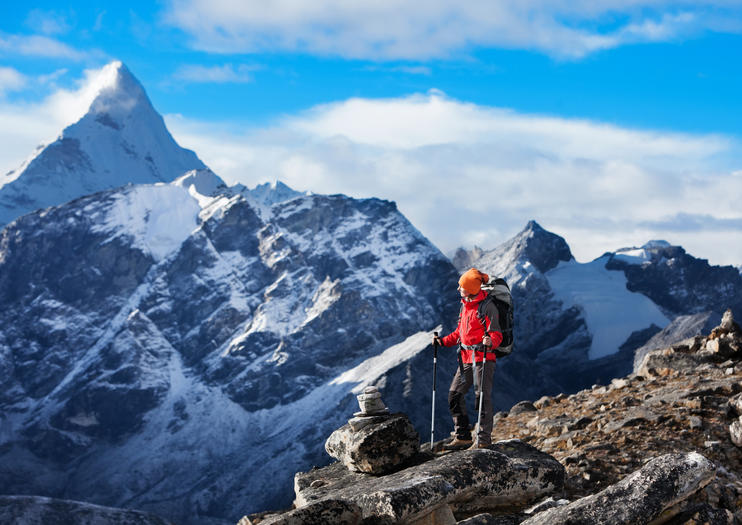 Kathmandu, the capital and largest city in Nepal, is like no other city in the world. The decaying buildings in the heart of the city are a contrast to the lively atmosphere that permeates the streets. The smell of incense wafts from the stores while street sellers push their wares, and people go about their daily lives, all against a backdrop of historic temples and carved statues. For several hundred years, Kathmandu was one of three rival royal cities, along with Bhaktapur and Patan. Situated in close proximity to each other, today these three almost run together. The highlight of Kathmandu has long been Durbar Square, the largest of the palace squares in the three royal cities and a UNESCO World Heritage Site. Temples and monuments of varying shapes, sizes, styles, and faiths can be found here.
Top tips : Hire your porter or guide in either Kathmandu or better yet when you arrive in Lukla on the plane. Prices are expensive when you book from your own country and if you book your guides in Nepal, you can be sure that more money is going directly to them as opposed to large corporations. There are many porters and guides that will meet you at the plane when your flight comes in to Lukla that are very experienced and capable. Plus, You have the added bonus of being able to interview them and see if you get on and you save money by not having to pay for their flight from Kathmandu. We climbed with our good friend Dipendra in Nepal, a guide with over a decade of experience.
Stay Out of the Sun Whenever Possible. The higher you go up in altitude, the lower the levels of UV Protection you are getting. Some days on the trail, the sun can be brutal, giving you solar radiation from its powerful rays. Staying out of the sun is not only good for minimizing those pesky wrinkles and avoiding skin cancer, but it can also improve your chance of being successful on the trek. When you get sunburned you become dehydrated, and back to the tip of keeping yourself hydrated, being dehydrated can cause all sorts of problems in the mountains and eventually limiting your chance of success. Of course, when you are walking during the day, there may be no cover from those potent rays, but you need to take as much care as possible to minimize those harsh emissions. The first way to protect yourself if by applying a factor 50 sunblock throughout the day. The mountain is not the place to top up that holiday tan you are hoping to bring back to work with you on your return home, when you get back to Kathmandu after the climb, you can do as you please, but while in the mountains, you need to block those harmful rays from your skin. The second way of protecting yourself is to always wear your goofy looking, yet extremely important, sun hat. Get yourself a light weight, brimmed sunhat to wear on days when the sun is shining and you will save yourself from some of the dreaded headaches you so adamantly want to avoid. Extra details at Sightseeing tour in Nepal.
Top advices : Stay at Tengboche. When yo arrive atgo and see the monks chant at 06:00 and 15:00 pm, it is very cool. It is a nice break from trekking to give your mind a break and listen to the music of the monks chant. It clears your senses and lets you relax for the day ahead. It is also an incredible cultural experience.
Altitude Headaches – A headache can be one of the first signs of altitude problems. Small headaches are common and should not stop you from trekking or worry you. However, it is worth mentioning to your guide and by all means if your headache gets progressively worse or you have other signs of altitude sickness it's time to stop ascending or even head down. Altitude Sickness if allowed to progress is serious. If you need to arrange extra days on the mountain we can normally arrange that .
The tour packages offered by Adventure Great Himalaya Treks & Expeditions give you a fantastic value for money, which is why we are confident you won't find a better tour package any place else in Nepal. We aim to provide a truly authentic experience for both thrill seekers and first-time travelers. Make your trip to Nepal a holiday of a lifetime with Adventure Great Himalaya Treks & Expeditions. Extra info on https://www.adventuregreathimalaya.com/.